Kamchatka - Heliskiing
One of the most impressive heliski areas in the world.
Kamchatka, is a huge peninsula in the northeast of Russia and in terms of area larger than Germany. With only 300,000 inhabitants, it is very sparsely populated.
This breathtaking, natural landscape, traversed by mountain chains, rivers and lakes and with countless volcanoes up to 4000 meters high, which belong to the Pacific Ring of Fire, 30 of them are still actively waiting to be rocked by you.
Gysiere, grandiose coastal landscapes, skiing to the sea, ... all this awaits you on our trip to Asia.
In addition to powder turns and chilling in warm geothermal springs, with a little luck you will also see the king of Kamchatka, the brown bear, on our heliski excursions.
Heliskiing directly to the Beach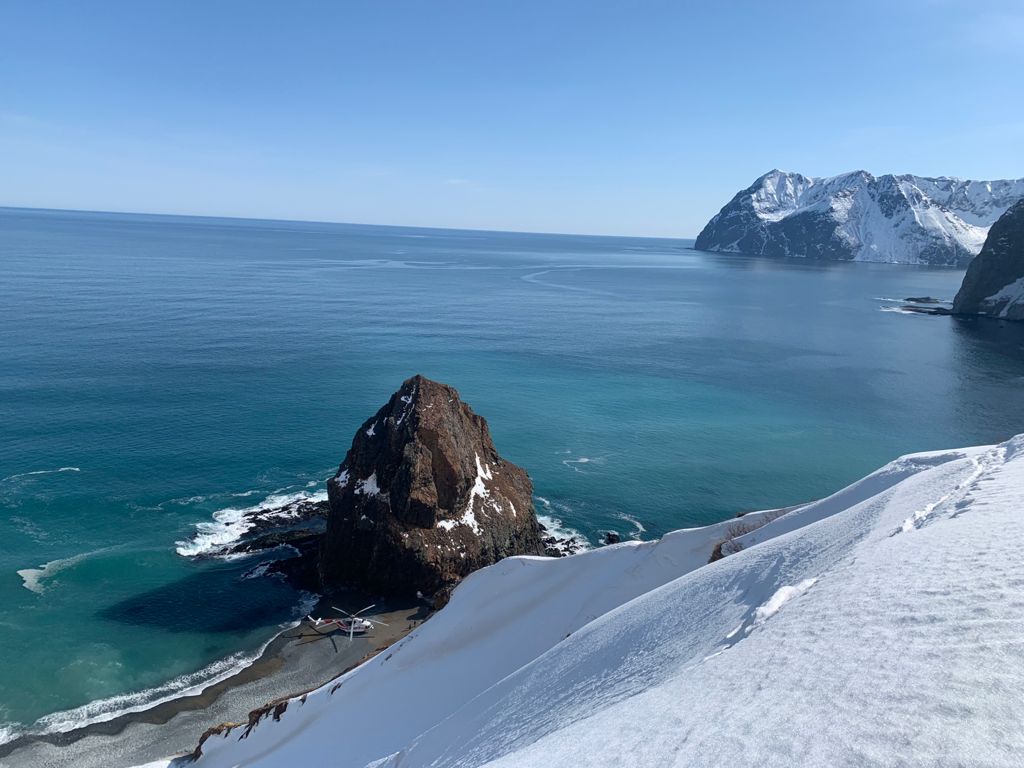 The Kamchatka heliski trip is unfortunately not possible at the moment because of the war ;-(
Heliski season:
Petropavlovsk Kamchatskiy: from mid-March to the end of April
Tour description:
Helicopter MI-8: 8 flight hours per group - 12 guests per helicopter - 3 mountain guides - 4 guests per mountain guide
Special requests: private arrangements on request
Group size: at least 4 / maximum 12 people - Closed group desired - Small groups are always the key to success on expeditions and heliski trips
Language: German / English
Duration: 6 days of freeriding // 7 nights in a double room
Difficulty level: Level 3 - 4 & very good physical condition
Expedition leader: UIAGM mountain guide - Peter Bacher
Safety: We have a satellite phone with us for emergencies on our expeditions
Hotel: ANTARIUS *** Kamchatka Guesthouse
Spa: outdoor geothermal pool + jacuzzi + Russian sauna
Wifi: internet
Meals: Half board breakfast + dinner - on the heliski days you will get a packed lunch from the hotel
Expedition profile
This wild volcanic landscape of fire and ice is a grandiose playground for our heliski adventures. However, the proximity to the sea means that these mountains are extremely exposed to a wide variety of wind and weather conditions. Therefore you have to be able to cope with all types of snow on our descents of up to 2000 meters in altitude.
The weather plays a major role in heliskiing every day. After receiving the current wind, weather, snow and avalanche situation report in the morning, the helicopter crew and the heli guides decide which volcano or mountain destinations to fly to.
Because of the long range of the MI 8 "living screwdrivers" we have a huge selection of different dream destinations within a radius of 150 km.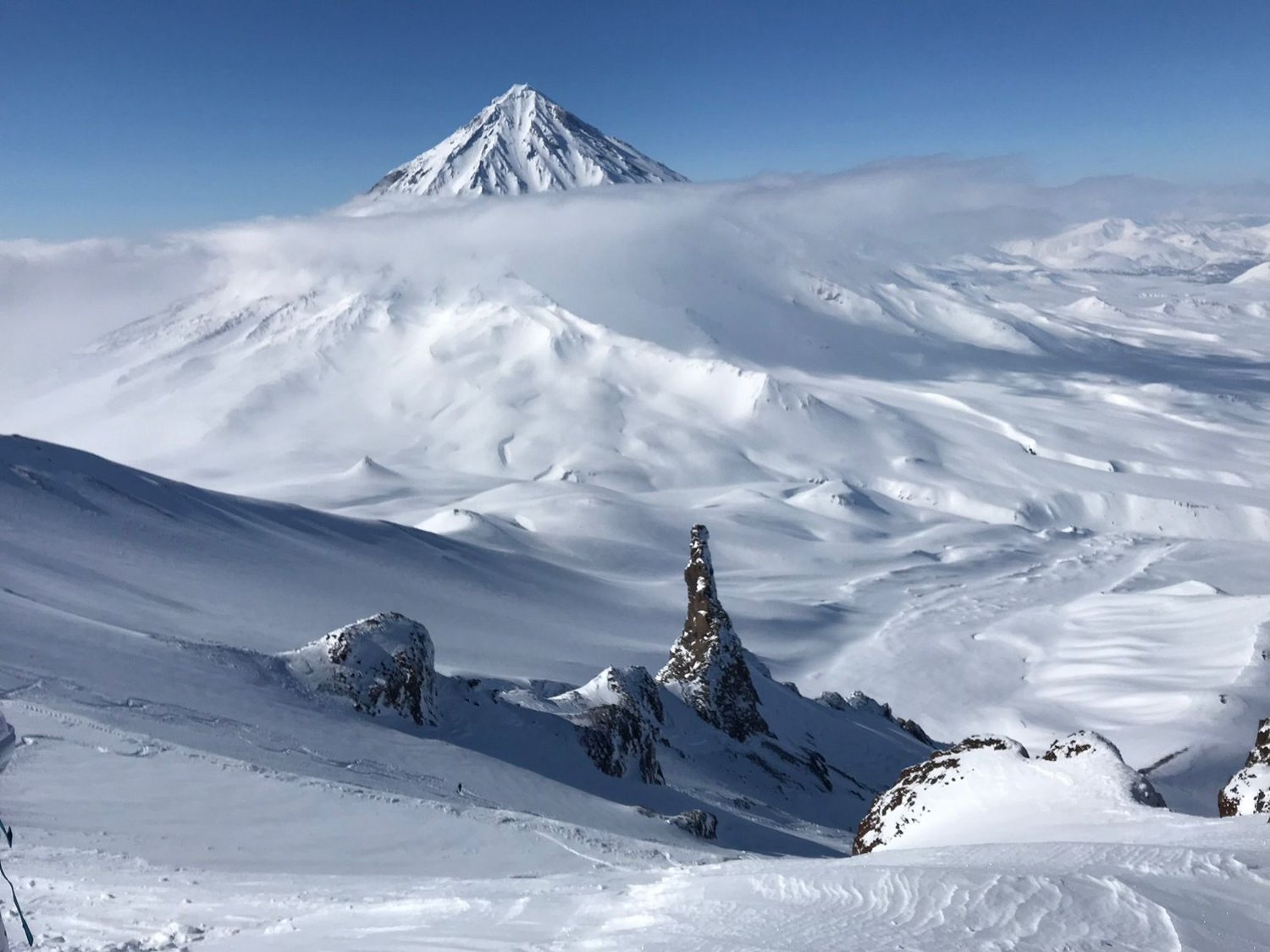 The group can choose from 4 different heliski offers with different prices:
Fire & Ice
Fire & Ice Freeriding from the tops of active volcanoes to the Pacific coast
=> 8 heli hours with 12 flights = price: € 6200.- / person -- each additional flight hour costs € 450.- per person (based on a group of 12 people)
The classic of our heliski Kamchatka tours. The high-performance MI 8 "living helicopter" transports less than 12 guests and 3 mountain guides. It is controlled by 2 pilots. Thus, the highest level of safety in terms of flight technology and guide technology is offered.
Wild East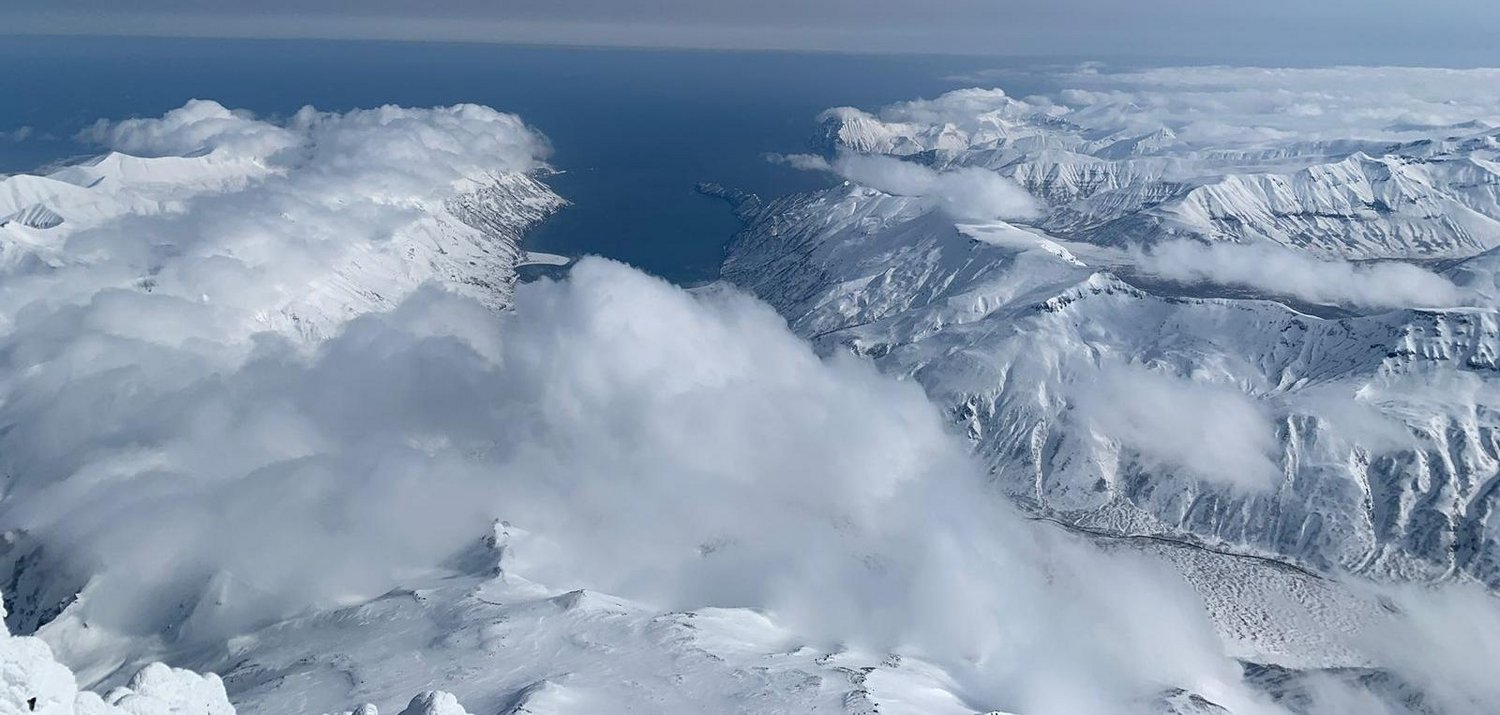 Wild East With this offer you have the option of either flying to the most active volcanoes of Kamchatka, the Kluchevskaya group in the north-east of the peninsula, or a ski adventure of a special kind at the end of the world at the southern tip of Kamchatka.
=> 10 heli hours with 12 flights = prices: € 7500.- / person - each additional flight hour costs € 450.- per person (based on a group of 12 people)
On this adventure, the helicopter flies us to the southern tip of Kamchadka, Cap Lopatka. From there it goes across the Pacific to the Kuril Islands. On the volcanic island of Alaid in the Sea of ​​Okhotsk we can ski from the 2300 meter high crater peak down to the sea.
With this large distance to the helibase, it may be that we need more flight hours. Up to 5 additional flight hours may be necessary. This offer is also only possible in the best flight weather.
Ride the highest Vocans
Ride the highest volcanoes Our goal is to land on the highest volcanoes in Kamchadka and master the longest and steepest descents there. Only for level 4 freeriders.
=> 8 heli hours with 8 flights = prices: € 8700.- / person - each additional flight hour costs € 700.- per person (based on a group of 8 people)
In spring, with good firn snow, we can rock the steepest couloirs and surf the longest descents.
Private Heliskiing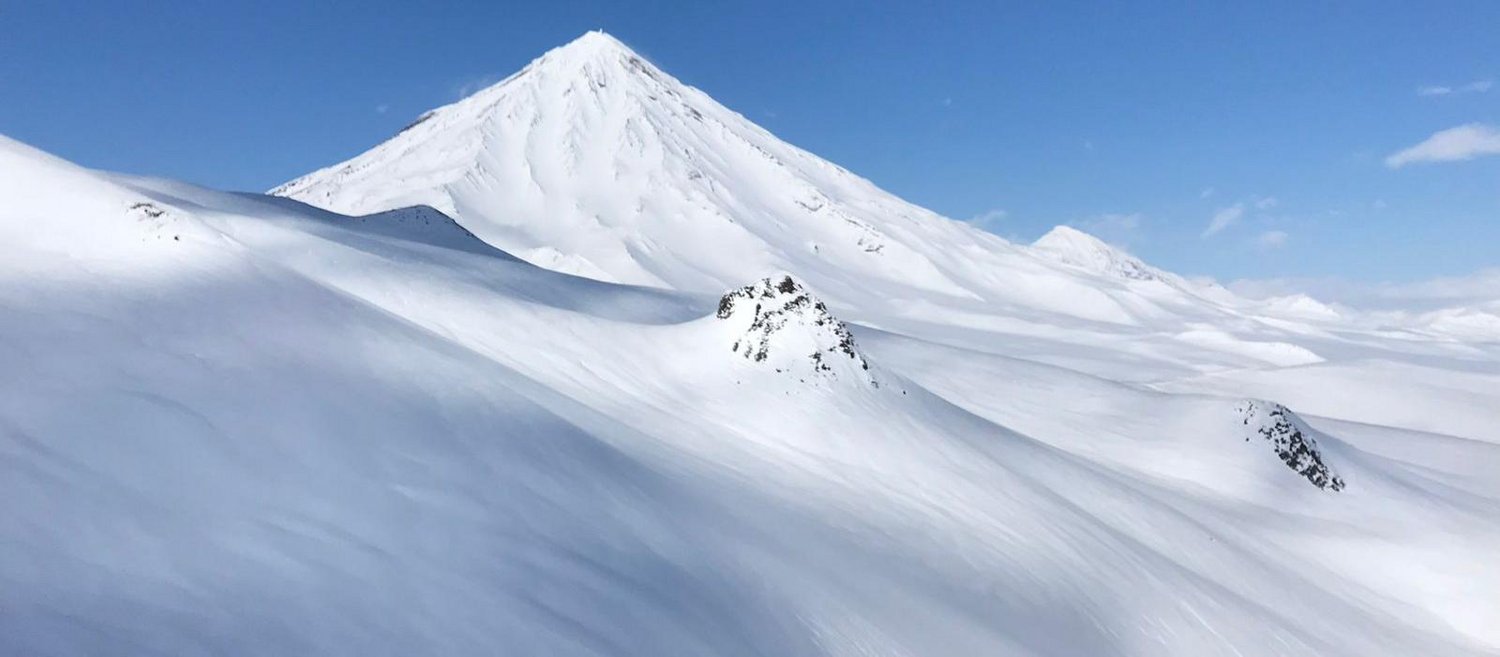 Private Heliskiing This offer is aimed at closed private groups with private mountain guides and private helicopters. We are happy to put together your individual heliski adventure.
Down Days
If the weather is too bad for flying and we therefore cannot SURF the volcanoes, we have the opportunity to go surfing. With "Snowwave Kamchatka" we can dry off the Pacific waves an hour away from Petropavlovsk.
SURF your Dreams
Snowwave - Kamchatka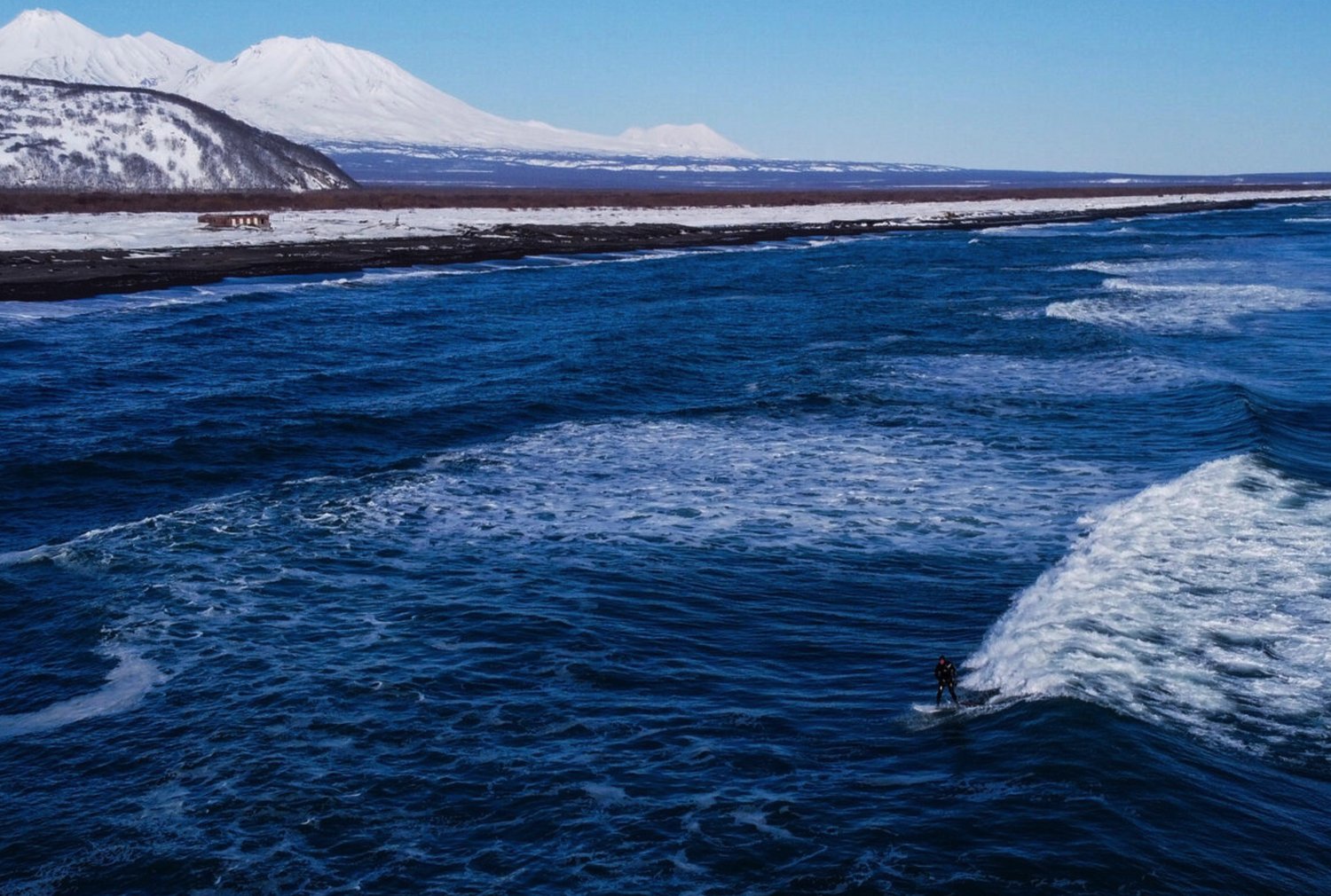 MI 8 Helicopter - one of the toughest, most powerful and most popular helicopters in the world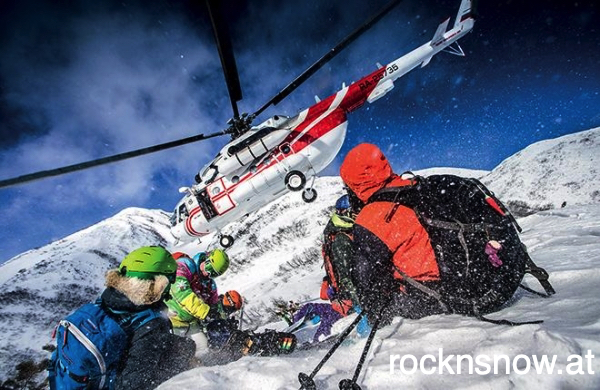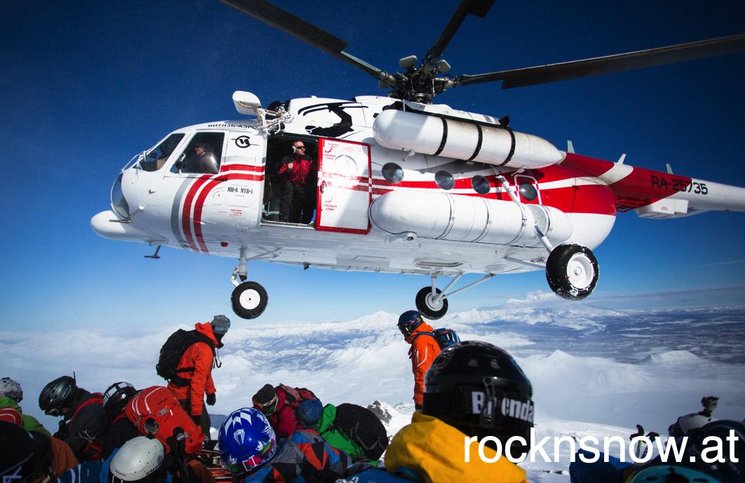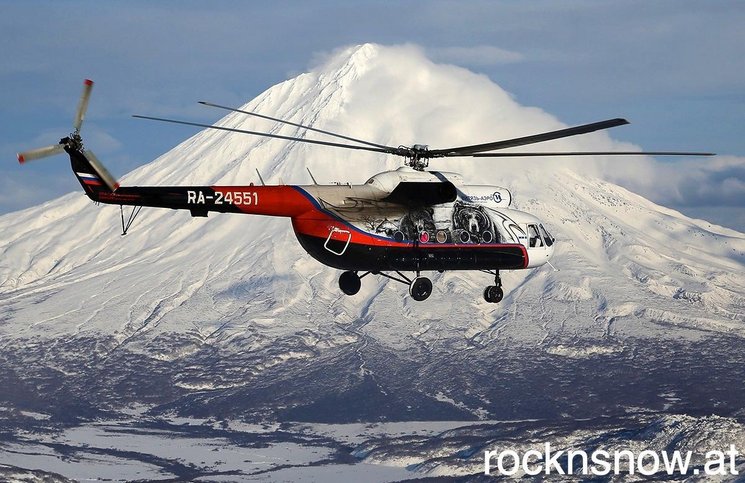 Itinerary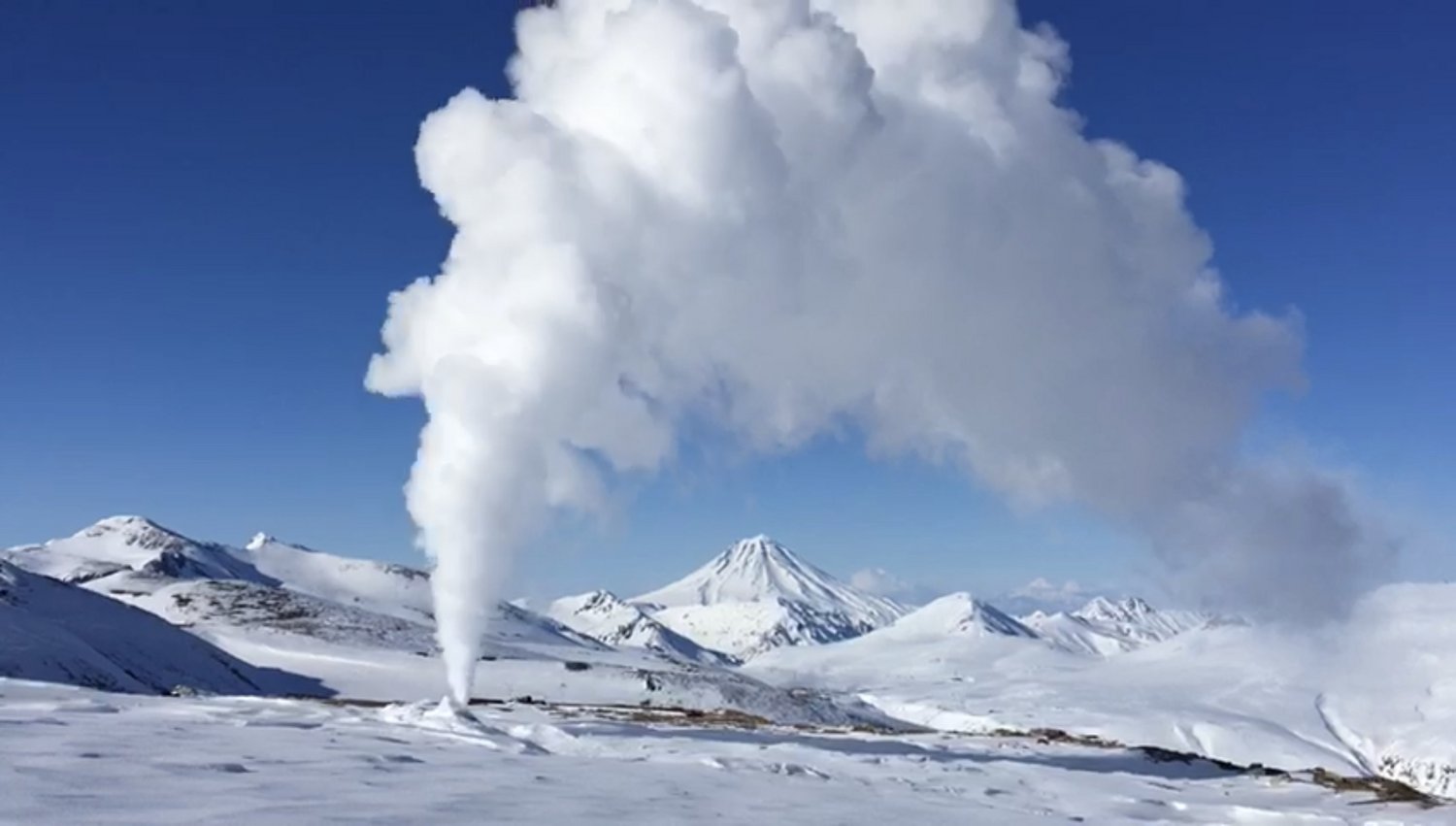 DAY 1:
Flight with stopover in Moscow. Direct flight from Moscow to Petropavlovsk-Kamchatski in 8.5 hours.
Important:
Moscow Transit: There are 2 Moscow airports. Depending on your flight schedule, you may need to switch terminals, which is time consuming. If you need to change airports, we strongly recommend that you allow at least 3 hours for your transfer from airport to airport.
Ski boots / snowboard boots + freeride clothing always belong in the hand luggage, as it is almost impossible to get the right ski boots / snowboard boots at the destination in the event of a luggage delay or loss of luggage from the respective airline.
After arrival at the airport, a transfer to the Hotel Antarius is organized for the entire heliski group.
The closest volcano is Vilyuchinski, which is only a 7-minute flight from the Helicopter Base. If the weather on the day of arrival plays along, we still have enough time available and the group is fit enough after the long flight, we have the opportunity to rock this 2170 meter high mountain as a WARM UP in the afternoon. So you passed the baptism of fire on the mountains of fire. Furthermore, on the first day we have a safety briefing on avalanche equipment, first aid and how to use the helicopter.
If the group doesn't want to take off anymore, they can spend the day comfortably in the hotel's SPA area and end the day with a welcome and safety briefing.
Material check - packing lists for ski tours and heliski trips - visa - vaccinations and illnesses
Visa
You are not allowed to enter Russia without a current visa. You can apply for a visa by contacting the nearest Russian consulate. To apply for a visa, you need proof of your upcoming visit to Russia. A list of all Russian consulates and representations worldwide can be found at:
Illnesses, allergies, intolerances, vaccinations:
Health check, any diabetes, musculoskeletal complaints, intolerance, etc. must be reported to the tour operator when booking the trip.
All of our ROCK the WORLD expeditions require all vaccinations required in the respective country. A full Covid vaccination or Covid antibody immunity is mandatory.
Packing list for ski touring expeditions:
Extra cost
As soon as the assigned hours in your package have been used up, it is up to you whether you want to buy additional hours. The additional time will be charged at the end of your stay. The additional flight time is: in package 1: 450 € per person and hour (based on a group of 12 people) in package 2: 700 € per person and hour (based on a group of 8 people)
Round-trip flight to Petropavlovsk-Kamchatski (we will be happy to help you with flight reservations)
If you arrive outside of the scheduled date, you will be billed for an individual transfer.
All activities that are not in the travel program
Alcoholic drinks
Services (telephone, massages, laundry, ...)
Freeride equipment
Additional costs that arise outside of our specified travel plan
Travel insurance
Down days Snow Wave Kamschatka
Unused helicopter time
This package includes 8 hours of flight time. You get € 600 back per person for every hour not used due to bad weather conditions or technical problems with the helicopter.