Paraboarding / Paraskiing
DIY Do it yourself "Heliskiing"
FLYING + FREERIDING
Paraboarding / Paraskiing it´s like Heliskiing, but with the paraglider and of course 100% ecologically.
YOUR ULTIMATE & EXTENDED ADVENTURE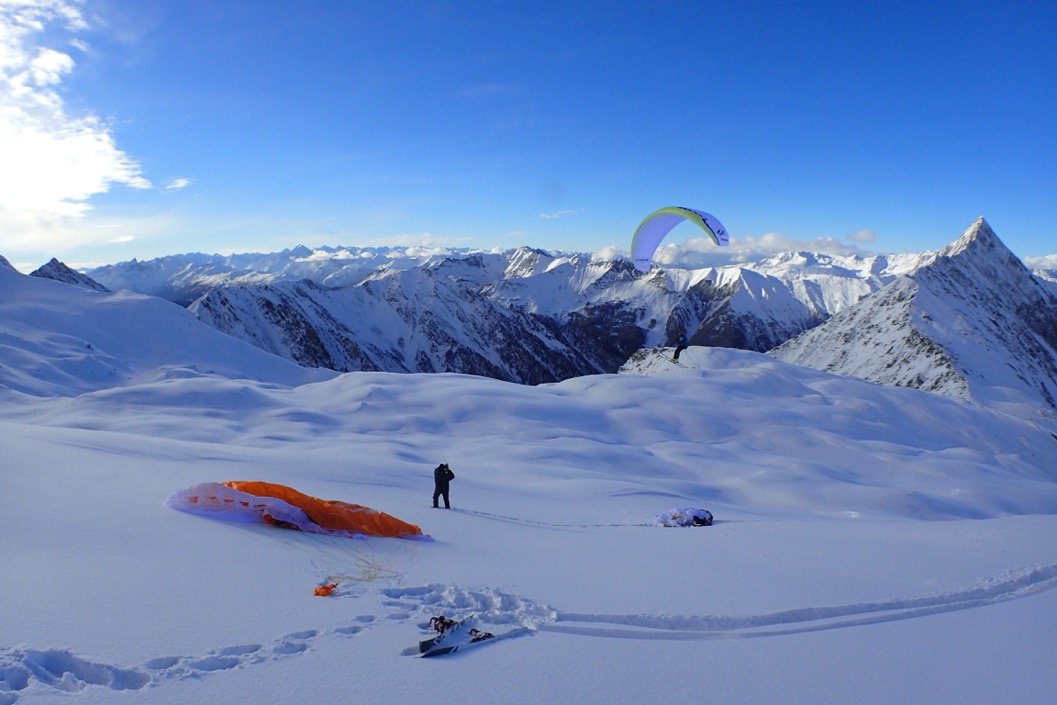 We are WORLDWIDE the only ones to offer this NEW sport.
You will be able to fly with us in the Convoy with your own moutaineering paraglider in light weight ( total weight 7 kg), from a high starting point in the ski area eg.: Hintertuxer Glacier launch at 3250m, Rastkogel - launch at 2500m or from Penken - launch at 2100m.
=> From October to February in glidflight.
=> From March to May we use the thermal winds. With the help of these currents we can reach a mountain of our choice over a distance flight.
The goal is a Freeride mountain which you have always already DREAMED.
At the top of the mountain or in a big couloir we land, pack the paraglider together and off we go to the ROCKnSNOW in the powder.
...after that we get ...
FIRST LINE - what else ;-)
Requirements: Paragliding Licens B, Independent Paragliding ( launch, thermal flying + landing on snowfilds on top of a mountain or big couloirs has to be 100% safety mastered ) ONLY for well versed Paraglider pilots - on the independent flight assume ROCKnSNOW no liability!! + Freeride Level 3 or Level 4

Number of customers: 1-2 persons
Equipment: Own mountaineering Paraglider + Harness with Airbag (maximum weight 7 kg ) Freeride-Ski: Between 100mm - 130mm below binding with front or double rocker + freeride skitouring binding and skins - Splitboard with skins // Freeride hire: Insider
Safety equipment: Rent avalanche transceiver, probe, shovel
Our Services: Routing (starting mountain + landing mountain) - Mountain guide (select the perfect and safest lines depending on snow conditions and avalanche risk) - paraglider flight in convoy - You will receive photos that your guide takes during the day directly on your mobile phone after the tour
DIY Heli- Boarding / Skiing - Next level Freeriding
DIY HELIBOARDING = a man + a splitboard + a plane - next level freeriding - Flight from Hintertuxer Gletscher to the summit of Frauenwandd