Challenging tours with Ski or Splitboard
These tours are designed for our guests with good fitness level, that have already put a few metres of uphill touring behind them.
In principle with ROCKnSNOW you can tour every accessible and avalanche safe mountain.
We know wonderful, remote and rewarding tours, therefore we can offer you the following choices.
Perfect conditions at the famous Skitouring Mountain in Zillertal - The Ahorn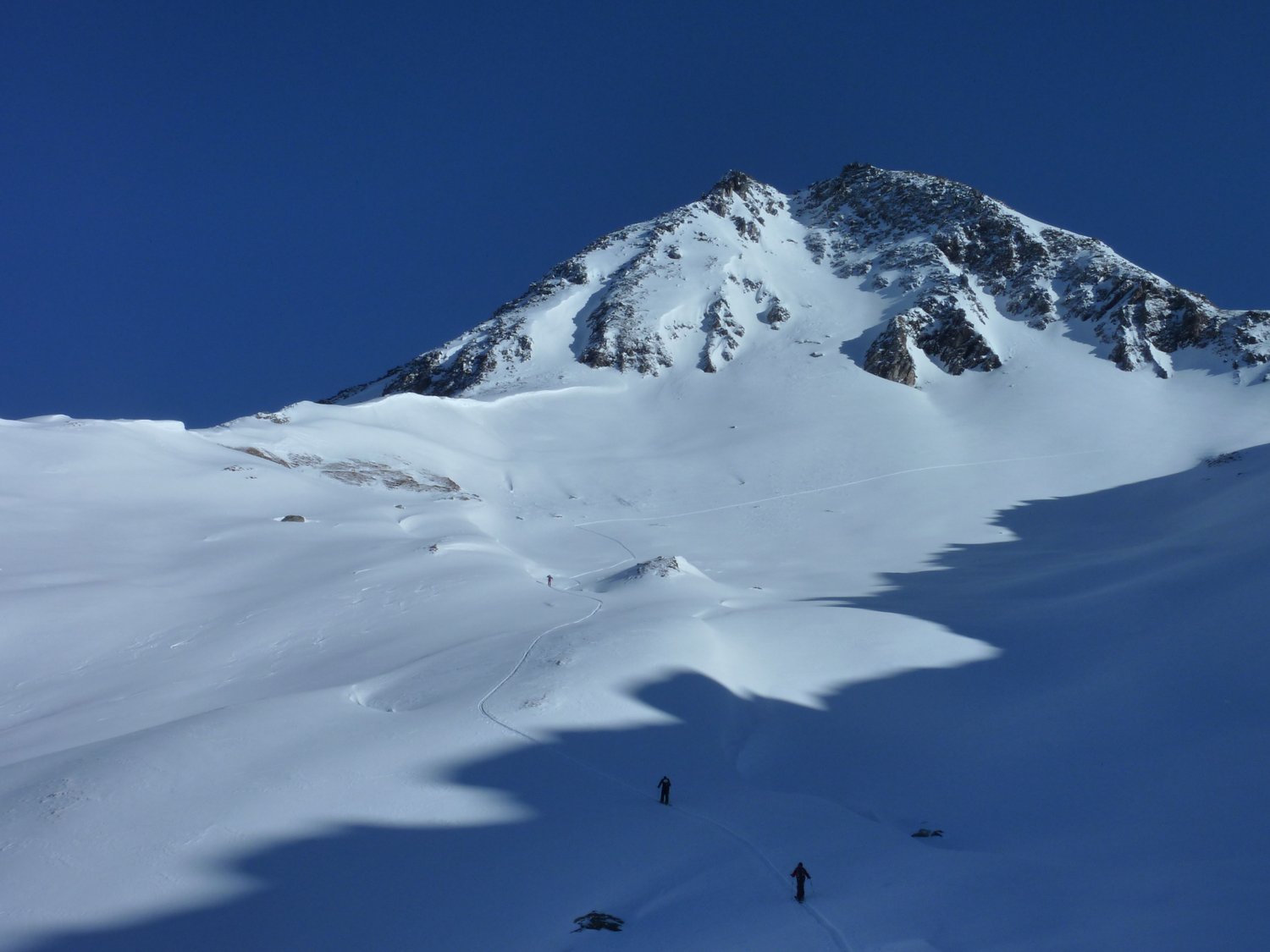 Touring-using the lifts
Hoher Riffler 3230m
From the Hintertux Glacier in approx. 2-3 hours to the peak, this mountain has a varying, long and demanding downhill. i.e.
Riffler -> Hintertux
Riffler -> Realspitze (1 1/2 hours uphill) -> Griererkar (incl. climbing passage)
Riffler -> Realspitze (1 1/2 hours uphill ) -> Höllensteinkar (incl. climbing passage + abseiling)
Riffler -> Zemmgrund
Ahorn Peak 2970m
From the Ahorn ski area in appox. 6 hours to the peak (incl. climbing passage and abseiling). Varying serious, steep and challenging downhill, 2400 m altitude difference to Mayrhofen. The most beautiful freeride pyramid in the Ziller Valley.
Only with Freeride Level 4 accessible.
Classic Touring-without using the lifts
Torspitze 2660m
1060 m uphill altitude difference over the back of the mountain to the peak. Different from middle steepness to steep downhill variations possible.
Junsjoch 2480m
1140 m uphill altitude difference, downhill (middle steepness) in the uphill track.
Halslspitze 2570m
970 m uphill altitude difference, very spacious and flat downhill.
Nestspitze 3000m
1660 m uphill altitude difference from Tux, crossing over to Ginzling with a grandiose 2000 m altitude difference downhill.
Schwarzenstein 3370m
2120 m uphill altitude difference it is our longest tour. Only suitable for guests with top fitness level. Overnighting in the winter room of the Winterraum der Berliner Hut posible. Traverse and downhill over the giant Floitenkees (glacier) to Ginzling.
Gabler 3260m
1840 m uphill altitude difference, downhill (steep) = in the uphill track, the best skitour in Gerlos. As an option the imposing Sichelgrat can be climbed up to the peak.
Details: We are away for the whole day. If using the lifts we take the first lift up, if leaving from the valley we start at daybreak.
Qualifications: Freeride Level 3, Level 4 or you have already attended a technique course with ROCKnSNOW
Equipment: Freeride-Ski: Between 100mm - 130mm below binding with front or double rocker + freeride skitouring binding and skins // Splitboard necessary // Freeride hire: see Insider

Safety equipment: Rent avalanche airbag, avalanche transceiver, probe and shovel
Our Services: Mountain guide (select the perfect and safest lines depending on snow conditions and avalanche risk) - Freeride run delux - Photographs to download. With your own USB- stick, you pick up your photos in orginal size, at the mountain guide office
Hoher Riffler 3230 m - Hintertux
We ride from Gletscherbus 3 to Kleegrube at 2700 m. From this point we start skinning 500 m altitude difference till to the summit.
With 5 different downhill runs is the Hoher Riffler the most attractive high alpine Skitouring Mountain in Zillertal
Hoher Riffler -> Höllensteinkees -> Juns
Hoher Riffler -> Griererkar -> Juns
Hoher Riffler -> Schmittenkar -> Hintertux
Hoher Riffler -> Schwarzbrunnerkees -> Hintertux
Ahornspitze 2970m (the royal Mountain above Mayrhofen)
Gabler 3260 m (the longest and greatest Skitour in Gerlos)