Paraglid- Guiding
Early Bird - Fly 2 Ski
In winter, especially at the start of the season in early December, we have a very attractive special offer, the "Early Bird" with our 3 Zillertaler ski resorts available. With Snowblades we carve to the launch places and glide to the valley stations of the nearest ski resort.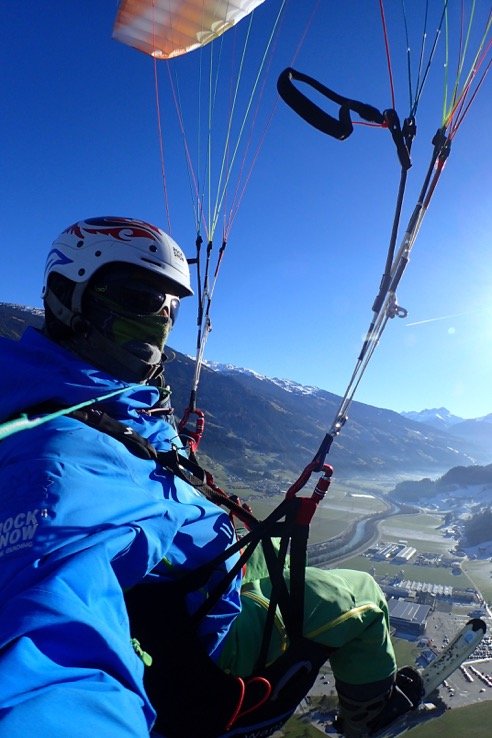 Early Bird - Fly 2 Ski
With our glides we reach with an A- Paraglider all landing places directly next to the valley stations of the respective cablecars.
1. Flying Mountain Penken - launch place at 2000 m => landing field Zell am Ziller
2. Flying Mountain Kreuzjoch - launch place at 2500 m => landing field Kaltenbach
3. Flying Mountain Kristallhütte - launch place at 2000 m => landing field Mayrhofen
Details: 3 - 4 flights, depending on tour planning. Carving fun with snowblades on freshly prepared artificial snow slops passes to the respective launch points
Requirements: Paragliding Licens B, Independent Paragliding (launch with skis + landings has to be 100% safety mastered ) ONLY for well versed Paraglider pilots - on the independent flight assume ROCKnSNOW no liability!! + skiing on snowblades

AGB: The Paraboarding / Paraskiing AGB has to be read before a tour with ROCKnSNOW care and also to sign the AGB
Number of customers: 1 - 4 persons
Equipment: Own mountaineering Paraglider + Harness with Airbag (maximum weight 7 kg) + Snowblades
Our Services: Routing (starting mountain + landing place) - Mountain guide - paraglider flight in convoy - Photographs to download. With your own USB- stick, you pick up your photos in orginal size, at the mountain guide office
Early Bird - Skiresort check at the opening