BIG 3 - Crossing the Zillertal
"Connecting the Skiresorts" - the dream of the owners from the Zillertaler Skiareas.
At ROCKnSNOW is it long time reality! With 3 different Freeride traverses you explore the Zillertal new. This tours are easy on one day, because we take the helpful lifts.
From the mainstream into the deepest backcountry, a must have for all freeriders!
Peter made them all the first time , 20 years ago.
The longest tour is 36 km.
First line @ BIG 3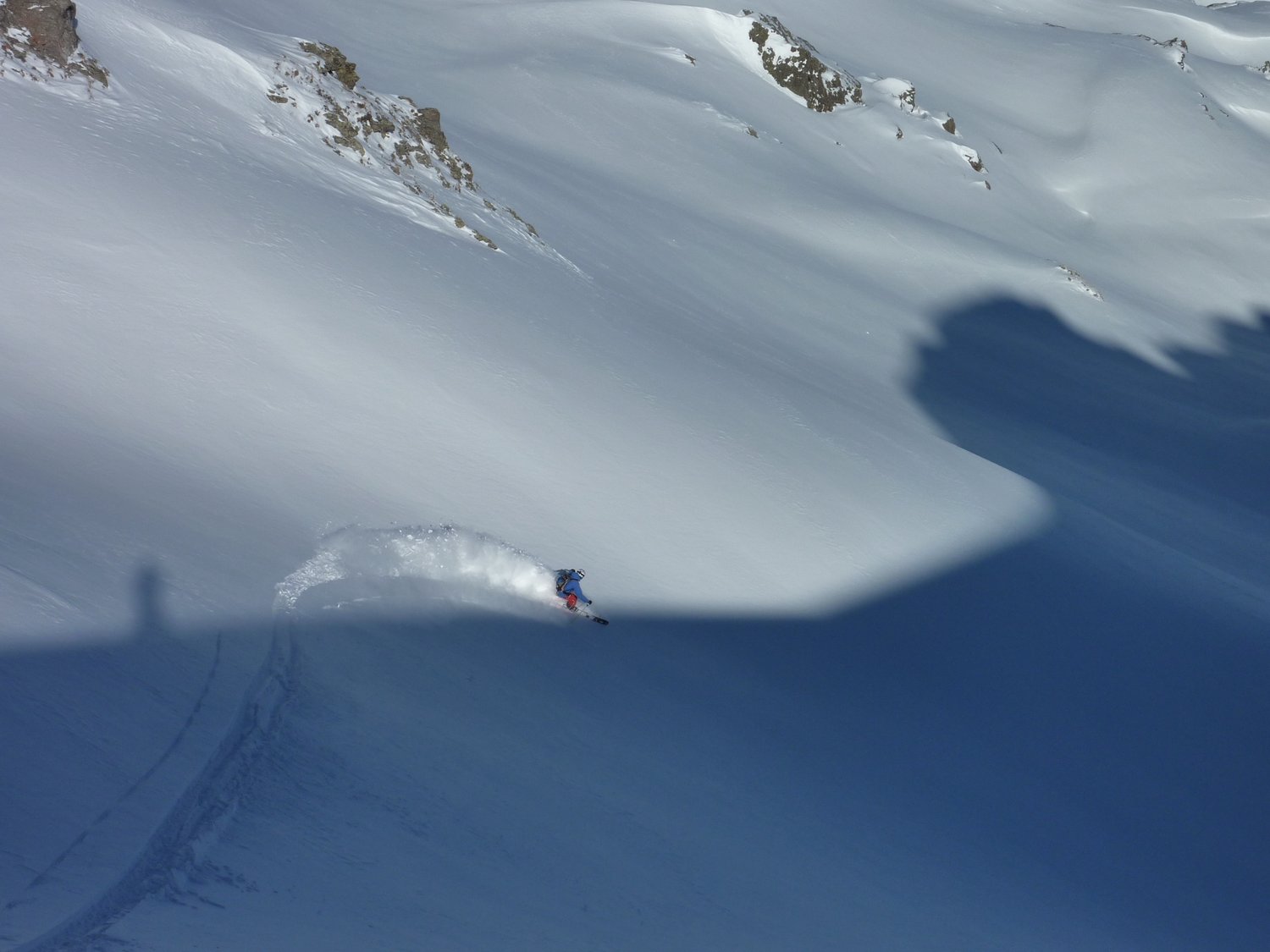 1. From Tux to Aschau => the classic
Across the Tuxer Vor Alps back to Ziller Vally
Start is Tux, Skiarea Zillertal 3000 Rastkogel on 2500 m (towards Rastkogel summit 1 hours uphill) into the Sidan Valley, then continuing up to the Sidanjoch (1/2 hours uphill), from there to the ski area of Hochfügen. With the gondola Ziller Valley Shuttle we ski/board in the ski area of Hochzillertal and the valley downhill run to Aschau.
When you have enough conditons we can climb from the Wedelhütte to the summit of Wimmbachkopf 2420m. From there we have a run 1900 m altitude difference to Aschau / Ziller Vally.
With only 2 hours imperative of uphill climbing is this traverse the famous in the Ziller Valley.
2. From Tux to Inntal => the conditionally strongest
Towards Hochfügen is it the same tour as Nr. 1.
With the helpful 8er Jet + new 8er Hochfügen you come to the south ridge from Gilfert. From there you travel 3 km on hiking and riding in 1 1/2 houres up to the summit of Gilfert 2480 m.
The 1600 altitude difference sunset north- run to Inntal (Weerberg) is not easy to beat.
This challenging condition tour is with 30 km the only one from Tux towards Inntal.
You need 2 lifts at Rastkogel and Hochfügen.
3. Across the (wild) western Kitzbühler Alps => the latest and longest with 36 km
From the top of Zillertal Arena (Übergangsjoch 2500 m) we ride down to some mountain lakes.
From there, we skin up the first time.
After a 1/2 hour hike we ride towards north in the Hemmerer Grund, a very beautiful deserted valley.
From the Kothüttenalm we skin the second and last time up to the Otto- Leixl hut on 1911 m.
From there we have a pillow run and a tobogganing road towards to Inneralpbach.
From there we take the lifts up to 2000 meters next to Wiedersberger Horn.
The last ride is a magic sunset run inside the ziller valley again. The run is between 1000 & 1500 meters altitude diffrence.
Details: We are away for the whole day - We us the first lifts up
Qualifications: Freeride Leve 2, Level 3, Level 4 - good fitness level
Equipment: Freeride-Ski: Between 100mm - 130mm below binding with front or double rocker + freeride skitouring binding and skins // Splitboard necessary // Freeride hire: see Insider

Safety equipment: Rent avalanche airbag, avalanche transceiver, probe and shovel
Our Services: Mountain guide (select the perfect and safest lines depending on snow conditions and avalanche risk) - Freeride run delux - Photographs to download. With your own USB- stick, you pick up your photos in orginal size, at the mountain guide office
Crossing Zillertal: Tux Zillertal 3000 => Hochfügen => Hochzillertal => Aschau
From Tux to Aschau => the classic
2. From Tux to Inntal => the conditionally strongest
3. Across the (wild) western Kitzbühler Alps => the longest with 36 km